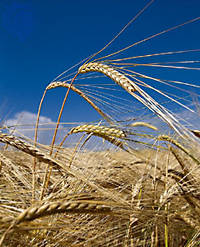 Barley has been around since ancient times and is a grain mentioned in the scriptures as useful for mild drinks.
Recipe:
Boil for 25 minutes, strain, cool, and add:
1 T raw honey
1/8 t. Cayenne Pepper (or 2 drops of Cayenne Tincture)
Add:
juice of 1 1/2 lemons, add zest if possible
Store in the refrigerator after cooling completely.
Traditionally, barley water has been used for urinary tract infections (make a batch when the first symptoms appear and drink throughout the day) and to ease flatulence and colic.    Barley water is a diuretic.
Barley water may also be useful for:
Cold relief – drink a gallon in a 24 hour period, then sip throughout the day until all symptoms subside.
Arthritis relief – drink as a refreshment daily
Upset stomach – you can add different herbs, like peppermint, while still hot to increase effectiveness.
Asthma relief – use as a preventative
Restoring mothers' milk – drink as needed
Stomach ache
Heartburn
Diarrhea
Mouth sores – swish in mouth and gargle
Sore Throat – use as a gargle
Excessive thirst – useful in quenching thirst on hot days or during times of physical activity
Dehydration – replenishes hydration and minerals lost in cases of dehydration
Cholesterol
Cooked barley is easily digested and  nutritious and is a traditional remedy for constipation and colon cancer.  Of course the grain can also be used in soups, porridge, and bread.
I modified the following recipe from BarleyFoods.org so I could use the left over barley from the Barley Water Recipe.
Wild About Barley
1/2 C orange juice
1/4 C + 2 T dried cranberries
1 t. lemon juice
1/2 T. grated onion
1/4 C. olive oil
Salt & Pepper, to taste
2 T. chopped fresh parsley (or basil or mint or cilantro)
1/2 C. chopped walnuts, toasted
While the barley is cooking, pour the orange juice over the cranberries and set aside. After draining the barley, drain the cranberries reserving 2 T of orange juice. Toss the barley with the cranberries. Mix the reserved orange juice with lemon juice and grated onion. Whisk in olive oil and season to taste with salt and pepper. Pour dressing over barley mixture. Add chopped parsley and toasted walnuts; mix well. Serve at room temperature or chilled. Serves 3.