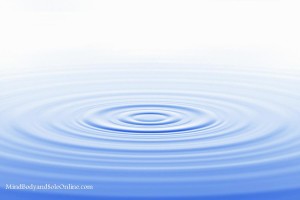 In 1996 I packed up my belongings and moved from Wisconsin to Utah, a single mother with two young children. The move was exciting and filled with promise. In a relatively short amount of time, and as the result of many miracles, I found myself in a new home and a new job. The neighborhood I moved in to was wonderful! My neighbors were kind and generous and very welcoming. There was much optimism for the future.
Within a few months, as the result of a court order, I was required to send my two young children back to Wisconsin to visit their father for the summer. This was the first time I had been separated from them and to send them to stay with someone I didn't feel they were safe with was very traumatic. It was difficult for me to sleep and to keep my mind occupied, I began to work long hours, many nights forgetting to eat dinner.
When my children returned home, we fell back into our routine and life resumed until the following summer when I had to send them back again.
Could I Have Depression?
By the third summer, the stress had begun to take its toll. I could tell that something had changed within me, but couldn't quite pinpoint the change or the cause. While driving to work, I would hear advertisements on the radio describing depression and I would ask myself, "Is that me? No that's not me, I don't have depression."
Then one day, as I was driving to work, I saw a semi truck approaching and the thought came to me, "If I were to swerve and the truck hit me, it would be over quickly and everyone would be better off." At that point, I realized something was wrong, and maybe I did have depression. I decided to do some research.
At the time, I was working as a property manager for an elderly apartment building and the Commission on Aging offered monthly lunch and learns. That month's lunch and learn happened to be on depression in the elderly. I decided to attend to see what I could find out.
I learned that there are 4-5 major symptoms of depression and 10 minor symptoms of depression, and in order to be diagnosed with clinical depression, a person has to have 1 of the major symptoms and 2-3 of the minor symptoms for a period of a couple weeks. As I looked at the list I could identify with all of the major symptoms and all of the minor symptoms and realized that I'd been experiencing them for a very long time – at least a year or more.
Traditional Medicine
So, armed with this information, I decided to visit my doctor. After explaining what I had been experiencing, I turned to him and said, "Now please tell me that I don't have depression." He smiled and responded that I did, but that it was ok because he was going to give me a pill that would help me feel better. He prescribed Prozac.
I began taking Prozac waiting to feel better and two months later as I sat on my bedroom floor crying because I couldn't find my car keys, I called my doctor and told him, "This isn't working." He responded that there was one other medication that he could try but that typically women didn't like it because the side effects were hunger & weight gain and it made you sleepy so I would have to take it at night.
Since my two biggest symptoms (other than depression) were that I wasn't sleeping more than 3-4 hours a night and that I never felt hungry my response was "If I only get the side-effects, then I'll be happy!" (I was already a size 2 and the fact that I couldn't eat more than a few bites of potatoes without feeling full concerned me.)
Within a few weeks of beginning Remeron I could feel a difference, but the doctor was right about the side effects. I wasn't too concerned about the weight gain but if I took the medication at 8:00, I was passed out by 8:30. If I took the medication at 8:30, I couldn't get up for work in the morning. Have you ever tried to get an 8 year old and an 11 year old to go to bed at 8:00? Let's just say, it's not easy. But I did the best I could and life continued.
Then one day I discovered that while I was passed out from the medication, my sweet little boy was playing with matches. I found the spent match sticks in his bedroom and on the back porch. That scared me enough to realize that I couldn't be an effective parent if I was passed out at 8:30 every evening so I stopped taking the Remeron and did the best I could with the depression.
The Blessing of a Friend
A few months later, my dear friend Michelle asked me if I had ever seen the Amino Acid Nutrition Therapy chart. I responded that I hadn't, so she gave me a copy.
At that time, I'd never heard of muscle testing or energy work, so I read through the chart and said, "That one sounds like me." I decided to purchase the amino acid and try it for a month – since it's a vitamin supplement, I decided it couldn't hurt. I remember taking the amino acid and noticing that it was time to start dinner.
As I prepared dinner, at one point I stopped and thought, "I feel normal." I looked at the clock and it had only been 45 minutes since I'd taken the amino acid. I wondered whether it could be the amino acid that had caused the "normal" feeling, but it had only been 45 minutes since I'd taken the pill and the medications that the doctor had given me took weeks before I could expect to feel a change. Had it really happened that quickly? I couldn't see any other explanation.
I continued to take the amino acid over the next year or two and after being introduced to muscle testing began to muscle test to determine when I needed the amino acid and when I didn't or how many capsules I should take. As long as I was taking the amino acid, I didn't experience any of the symptoms of depression.
Then in the Fall of 2009, I decided to attend The Energy Connection class taught by Sue Noall in Wellsville. During the class, Sue asked for volunteers for demonstration purposes. I volunteered and during our demonstration session the issue of depression came up. I hadn't told anyone in the class about suffering from depression, so this surprised me and when she proceeded to "clear" the depression I was skeptical. I left for home wondering if I would test for an amino acid the next day. I didn't. I haven't tested for an amino acid since that class and I haven't had any problems with depression.
Since that time, I've shared my story with anyone who comes to me struggling with depression. Other family members and friends have used amino acids for depression with success, and friends have used amino acids to help their children cope with rage and other emotional issues. When I designed my website, one of the first pages I added included the Amino Acid Nutrition Therapy chart.
Full Circle
In 2011, I attended a class held by another energy worker. Imagine my delight when I saw, included in her handouts, a copy of the Amino Acid Nutrition Therapy chart that Michelle had passed on to me so many years ago. I don't know if she saw it on my website, or if someone I shared it with chose to share it with her, or if one of her dear friends shared it with her, or if the Spirit directed her to it. But I was delighted to know that she had found value in it as well and wanted to share it with her clients and students.
While driving home from class the image came to my mind of the ripples on a pond after tossing in a pebble. The ripples seem to go on forever. The same thing happens with us. Our words and our actions cause a ripple effect and we may never know how many people are touched.
I will be forever grateful for the ripples created by my dear friend. I wonder if she realizes how many people this one act of kindness, extended so many years ago, has benefited.