Our Commitment to Our Students Doesn't End with Graduation!  As a We Do Feet Graduate, you receive:
Unlimited Auditing Opportunities

Graduates can audit their Instructor's Foot Zone Class for FREE!
Graduates can audit We Do Feet Owner, Brad Noall's, Foot Zone Class for FREE! (This is like getting two 9-month training programs for the price of one!)

Life-Time Continuing Education

Graduates can enroll in any other We Do Feet Instructor's Foot Zone Class for a small Con Ed Fee.  With over 25 instructors teaching throughout the country, that's a LOT of Continuing Education Opportunities!
Each of the Instructors for We Do Feet teaches the same Foot Zone Curriculum, but each teaches it in their own way.  Instructors also bring their own perspectives, personalities, and areas of expertise to their class and We Do Feet Instructors are ALWAYS learning!  You'll never get the same class twice even if you enroll every year!
Discounts on other We Do Feet Courses.
Exclusive membership in an Online Forum reserved for We Do Feet Students and Graduates.  Ask questions and join in the discussion!
FREE listing in the Find a Foot Zoner Near You Directory – the largest Directory of Foot Zone Practitioners in the country!
Annual School Retreat to connect with other Practitioners and learn from several We Do Feet Instructors
Annual Class Reunions to receive training on updates and advancements in the Foot Zone Technique and reconnect with classmates
Instructor Publications provide information on Anatomy & Physiology, updates in the Zone Technique, and keep graduates abreast of the latest information in the field of holistic health and wellness.
Register Today!
---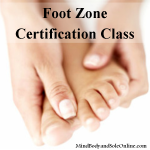 Foot Zone Class - Deposit
Reserve your space in the 2021 Fall class by paying a $200 Deposit. The deposit is non-refundable but may be transferred or applied to a future class. When your deposit is received you will receive information on class books and materials and gain access to the Class 1 Online Learning Module. 2021 Fall Semester begins October 8th. EARLY BIRD DISCOUNT - Register for class before July 31st and receive $200 off your Books & Materials fee.
Items in Your Cart
Your cart is empty
For Additional Information
---
Please feel free to contact me directly, either by phone or by email.
Katherine Atkinson
MindBodyandSole@comcast.net
(801) 292-7574
"Our goal as instructors is to help each student become the very best Foot Zone Practitioner they can be."  Brad Noall, Owner, We Do Feet Seminars