I'm so excited about the clay and salt class coming up.  Neal Bosshardt rarely teaches small classes anymore so this is a rare opportunity for us!  This is one class that EVERYONE should attend, the benefits of clay and Real salt are phenomenal!  I hope you make time for this class.  🙂
Redmond Clay and Redmond RealSalt
Saturday, January 28, 2012
10:00 AM – 11:30
Centerville, Utah
Cost: FREE
Join Neal Bosshardt as he shares two things no home storage or emergency preparedness plan should be without – Redmond Real Salt and Redmond Clay, amazing gifts from Mother Nature found right here in Utah!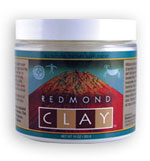 Natural Clays: Ancient Solutions to Modern Ailments
When it comes to healthy living, good nutrition, and healthcare choices, there is no shortage of options. Every day there seems to be new formulations, drugs, creams, drinks, treatments, and elixirs that are all engineered and marketed to solve mankind's health problems. Although many of these man-made products have merit and hold a necessary place in healing, there are times when a return to nature can yield results that are just as (or more) powerful. From the earliest prehistoric ancestors to the Ancient Egyptians to indigenous peoples from around the world, natural clay was a staple for healing. Down through the ages those knowing the art of healing with clays were well respected, but in our day the power of healing clay has been forgotten.
The use of Natural clay is once again on the rise for a wide variety of modern ailments. In this interactive workshop you will learn the history of healing clays, the science behind why clay works, and how to use healing clays for yourself, your family, your clients, and your friends. The beauty of clay is that it is all-natural, safe, non-invasive, easy to use, very effective and low cost, without the dangerous side affects attached to many other treatment options.
4 Specific Learning Objectives:
The history of clay therapy in ancient times and its use in modern times.
The science behind why clay works, for both external and internal applications.
How to use healing clays for yourself, your family, your clients, and friends.
How to find natural clays that are right for you. What questions to ask. What to watch out for when purchasing healing clays.
Natural Salts and the mistake of the "Low Salt Diet"
Salt is one of the most misunderstood minerals on Earth. For thousands of years salt sustained life, provided a source of trade, and was even used as currency. Yet over the last century it has become known to many as a dangerous chemical that should be avoided at all costs. Current (and age old) research is once again returning salt to its place of necessity for human health. Without salt, everything dies. Our bodies are literally oceans of salt and natural trace minerals. One medical Doctor's new book is actually entitled, "Salt Your Way to Health" and another calls it the "Sodium Lie." In attending this workshop you'll learn about salts from around the world, discover the misconceptions around "sea salt", and see how "a low salt diet" could be one of the biggest mistakes of your life. Not all salts are created equal, and your health depends on which one you choose for you and your family.
4 Specific Learning Objectives:
Natural Salt is Necessary for Life – A low salt diet results in multiple problems and imbalances in the body.
All salt/sodium is not the same. Most "sea salts" are just as bad (or worse) than "table salt". Learn how different salts are produced.
Natural salt balances the body and is a critical element to numerous body functions. This is why you get an IV of salt (saline) in the hospital.
How to find a natural salt that is right for you. What questions to ask. What to watch out for when purchasing salt.
Pre-registration for this class is required. Please call 801-292-7574 to register.