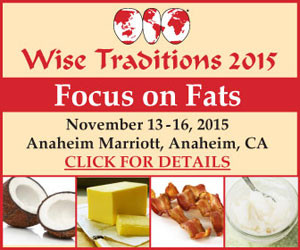 The 16th Annual Wise Traditions Conference will be held Friday, November 13 – Monday, November 16, in Anaheim, California.  The theme of this year's conference is Focus on Fats.
"The most important step you can take if you are aiming to improve your diet and your health is to 'get your fats right!'  Unfortunately, the media abounds in misinformation about which fats are healthy.  In spite of what you may have heard, the healthiest fats are saturated animal fats!  This conference will help you understand why butter, lard, egg yolks, cream, and meat fats need a prominent place in your diet."  Sally Fallon Morell
The 2015 conference includes a great line-up of speakers including:
Allan Savory, author of The Grazing Revolution
Tiffany Wright, PhD, the Skinny Coach
Natasha Campbell-McBride, MD, PhD, author of Gut and Psychology Syndrome
Philip Weeks, LAc, Mh, master herbalist, acupuncturist and naturopath
Mary Cordaro, expert on electromagnetic radiation
Chris Masterjohn, PhD, expert on fat-soluble vitamins
Sally Fallon Morell, author of Nourishing Traditions
Tom Cowan, MD, author of Fourfold Path to Healing
Kaayla Daniel, PhD, author of The Whole Soy Story
In addition to great speakers, when you register for the conference you'll be entered into a monthly drawing for a free registration.  One free registration will be gifted each month!
Check out the Conference Details or Register!