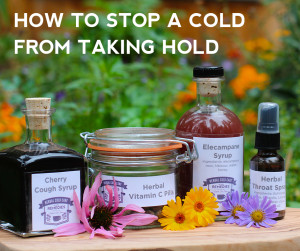 Have you noticed that cold season is still hanging around?  Did you know that February is prime flu season?  Do you wish you knew how to STOP a cold in its tracks or the best herbs to support your immune system during flu season?
If you're interested in natural health, you might have questions like:
How can my family correctly use herbs for cold and flu?
How can I support my immune system?
Is Echinacea the right choice?
Well not to worry!  You're finally going to get the answers!  Rosalee de la Foret and John Gallagher from LearningHerbs will be addressing these questions and more in a FREE webinar, "Stop a Cold from Taking Hold" on Wednesday, February 10th at 5:30 PM Pacific/8:30 PM Eastern.
In this webinar they're going to share:
The 6 best herbs to take at the first sign of a cold or flu and how to use them correctly
7 simple techniques that support all 8 parts of your immune system
Why Echinacea isn't always the best choice for a cold
The key to fighting winter illness
PLUS, if this webinar is anything like previous ones, there should be LOTS of cool giveaways!
Are you ready to know the myths and truths about herbal cold and flu remedies?  Be sure to reserve your spot in this FREE webinar!
Oh!  I almost forgot!  During the webinar John and Rosalee will be doing a live Q&A.  That means you can ask them anything about herbal cold and flu remedies.  So start writing down your questions now, and don't forget to sign up today for "Stop a Cold from Taking Hold!"