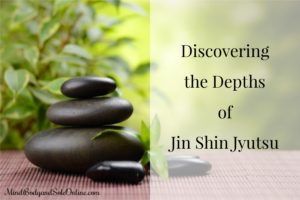 Jin Shin Jyutsu is a Japanese modality that was practiced anciently. In this class, we'll explore the JSJ concept of depths. The depths are a practical healing tool as well as a means of understanding how we came into being and how we remain unified with the source of all life. In this hands-on class you'll learn some simple techniques you can do yourself to harmonize the energy of the depths. "Matter is the lowest level of spirit, and spirit is the highest degree of matter."
Download the Class handouts, then join me at the 2018 Spring Energy Healing Conference, Saturday, April 28th, for this fun and enlightening class.  You'll find me teaching in Room 254A at 9:00 AM (there's a mistake in the program).  I'll also have a booth at the event with lots of information and free gifts.  Visit me at the booth and you can enter to win one of 6 great prizes!
The first 50 students in the class will be entered to win this JSJ Self-Help Book Set complete with JSJ Book Bag which I'll be giving away in class!
The Spring Energy Healing Conference is an incredible gathering of people in who want to learn more about alternative health, energy medicine, and the science of the energy systems.  People who are interested in herbal remedies, color therapy, overcoming addictions, strengthening relationships, light therapy, crystals & stones, holistic business support, hypnotherapy, the law of vibration and so much more!
This HUGE conference will have 120+ vendor tables and 77 classes to choose from. You choose your conference experience because you choose which classes you'll attend when you arrive. There will literally be something for everyone!
This is an event you won't want to miss!
Location: The Salt Palace, Salt Lake City
Purchase Your Ticket