How to Ferment Foods & Why You Would Want To
Are you curious about fermenting foods?  Have you wondered if YOU could ferment foods at home?  Do you like the idea of making your own ferments but you're not sure where to start?
Then what are you waiting for?!  Join me in this FUN and TASTY class where I'll show you how EASY it is to make your own PROBIOTIC powerhouses!  I'll demonstrate milk kefir, kefir cream cheese, fermented cabbage, fermented carrots, fermented beet kvass, and anything else I can get my hands on!
We'll talk about the many wonderful BENEFITS of fermented foods, and you'll even have a chance to TASTE for yourself how DELICIOUS home-made fermented food is!
PLUS, you'll go home with milk kefir grains and recipes so you can start fermenting yourself!
Date:  Thursday, July 20
Time:  6:00 PM – 9:00 PM
Place:  1035 North 500 East; Centerville, UT
Space is limited, so Register Today!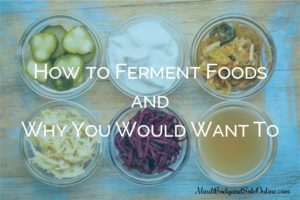 Fermented Foods Class
Join me in the FUN and TASTY class as we learn about FERMENTED foods!
Available Qty: 20
Items in Your Cart
Your cart is empty