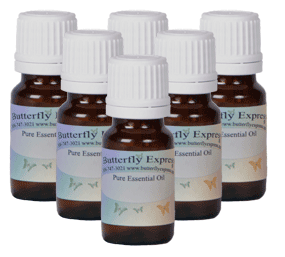 Butterfly Express oils are 100% natural, therapeutic grade essential oils. Except when stated, no carrier oil, i.e. coconut oil, almond oil, grape seed oil, etc., has been added. The descriptions that follow detail the traditional use of these oils as detailed in "Butterfly Miracles with Essential Oils" by LaRee Westover (available through the Online Store) and are not meant to diagnose or prescribe in any way.
Clients will receive an additional 10% off any purchase of essential oil AND they will receive 15% off during the month of their birthday. 🙂
Sale prices are 15% off the regular price, but when you purchase all six oils, you receive an additional 5% off for a total of 20% off the regular price.
To order these, and all your favorite, essential oils please visit the Online Store.
Blends
InsideOut 10 ml Full Price: $15.75 Sale Price: $13.39
Mariah 10 ml Full Price: $21.00 Sale Price: $17.85
Millenia 10 ml Full Price: $21.00 Sale Price: $17.85
Singles
Chamomile Roman 10 ml Full Price: $33.25 Sale Price: $28.26
Elemi 10 ml Full Price: $11.38 Sale Price: $9.67
Oregano 10ml Full Price: $10.06 Sale Price: $8.55
Product Descriptions
LeInsideOut
INGREDIENTS: anise, cardamom, cilantro, fennel, juniper berry, kanuka, lemon, lemongrass, patchouli, peppermint, tarragon, thyme
AFFINITY FOR: digestive system, stomach meridian
RESONANCE: physical, emotional
APPLICATION: Apply one drop behind the ears for nausea, motion sickness, or morning sickness. LeInsideOut can also be applied over the abdomen either by diluting with a carrier oil or as a compress.
EMOTIONAL / SPIRITUAL / MENTAL ASPECTS: LeInsideOut is primarily considered an oil which works on the physical body. Whenever you use an essential oil, you will be working on underlying emotional roots as well as physical complaints. LeInsideOut can be helpful in discovering and sorting through the emotions underlying the digestive problems. LeInsideOut can help calm the obsessive worry that sometimes contributes to digestive difficulties.
PHYSICAL ASPECTS: LeInsideOut improves the function of the digestive system. It helps with upset stomach, belching, bloating, stomach cramps, heartburn, constipation, and diarrhea. LeInsideOut's ability to be effective for both constipation and diarrhea may seem odd; it is not. Natural remedies work with the body to return systems to balanced and healthy states. They are not the administration of an "opposing" remedy or force. This is true in every aspect of the body and mind when working with natural healers.
LeInsideOut should be used for any bout of intestinal flu or food poisoning. It is useful for most types of nausea, either by inhaling the aroma or putting a drop behind each ear. This blend should be applied over the abdomen for colon problems and for candida overgrowth. LeInsideOut has been useful in the treatment of parasites in animals and humans. For humans, place LeInsideOut on the feet and massage across abdomen. For animals, dilute a few drops in water and massage into soft tissues.
Cautions: LeInsideOut contains a small amount of fennel which is, when used by itself, contra-indicated for use during pregnancy. This is an example of blended oils being safer to use than single essential oils. This essential oil blend is safe to use for morning sickness in the manner described, but proper care, prudence, and judgement should be exercised.
LeMariah
INGREDIENTS: bay, helichrysum, Idaho tansy, opopanax, ravensara, spearmint, spikenard, thyme, turmeric, wintergreen
AFFINITY FOR: respiratory system , immune system
RESONANCE: physical
APPLICATION: LeMariah should be applied, diluted, to the chest and back at frequent intervals.
AROMATIC CONSIDERATIONS: LeMariah should be diffused near the patient to aid in clearing the lungs.
PHYSICAL ASPECTS: This blend was specifically designed for use against the new flu strains that are giving people such a scare today. It seems to be the nature of these new strains to manifest very differently from one person to another. One person may sustain more damage to the circulatory system while another person may be hit hardest in the lung and respiratory areas. The strength of this blend lies in its antiviral/antibacterial properties and in its ability to clear and support the lungs. LeMariah should be used in conjunction with LeRevitalize for endocrine support to increase energy and stamina. Use LeMariah in conjunction with LeVitality to strengthen the heart.
LeMillenia
INGREDIENTS: blue tansy, chamomile German, elemi, fir, frankincense, geranium, lavender, rosewood, spruce
AFFINITY FOR: body structure and alignment, energy/electrical system, nervous system, muscles, skin, every chakra, emotional balance, every meridian
RESONANCE: LeMillenia is a very low frequency oil. This makes it very effective for working on issues of physical structure and alignment. However, LeMillenia is also an outstanding emotional blend.
APPLICATION: LeMillenia is very good applied to the bottoms of the feet or along the inside of the foot (the spine in reflexology and foot zone therapy). You can balance the energy between the left and right lobes of the brain by putting a drop of LeMillenia on your index fingers and placing your fingers on your temples. The left hand should be on the right temple, and the right hand on the left temple.
AROMATIC CONSIDERATIONS: When diffused, LeMillenia builds courage, confidence, and self-esteem while being calming and relaxing at the same time.
EMOTIONAL / SPIRITUAL / MENTAL ASPECTS: LeMillenia helps one find the courage to move forward with confidence and faith. It brings clarity about what is really necessary for happiness and contentment. It can help us find an equilibrium between being organized, neat, orderly, meticulous, logical, and analytical (all good traits), and being obsessively focused on perfection.
LeMillenia is used to aid us with self-expression, fear of conflict and disagreement, and the ability to make decisions. This blend can foster tenacity and independence of spirit.
PHYSICAL ASPECTS: "Chiropractor in a bottle" is a good description of this blend except that LeMillenia aligns so much more than just physical structures. LeMillenia aligns the electrical energies of the body, balances every meridian, and energizes every chakra. In addition, LeMillenia maintains the integrity of the connective tissues that wrap, connect, and protect every organ and balances the emotions connected to each organ. LeMillenia balances the moisture and fluid levels in the body.
One of my favorite uses for LeMillenia is in working with ADHD and hyperactivity. Applying LeMillenia to the feet at least once a day can make a profound difference in a child's ability to sit still and concentrate. I use the feet because it is an excellent place to draw essential oils into the body. I also like the feet because the person (it is often a little boy) can put his shoes back on, go to school, and no one teases him because he "smells like flowers". Also consider using LeTranquility along with LeMillenia.
As an agent of structural alignment, LeMillenia can be used as a diuretic, an antispasmodic, an expectorant, and a nervine. LeMillenia is helpful for some types of arthritis, for sciatica, and to improve capillary circulation. LeMillenia should be tried at the very first moment a hernia is suspected.
Using LeMillenia to brush your teeth may keep your teeth aligned and prevent cavities. A drop should be diluted in almond oil and put in the ear for earache. This will realign physical structures and take the pressure off of the ear canal or ear drum.
Because LeMillenia realigns physical and electrical structures, it is beneficial for some types of headaches. It is antispasmodic, analgesic, and excellent where bruising has occurred.
There is not enough understanding of anorexia, but it is known that something in the way LeMillenia realigns the body systems changes the thinking and brings relief from this condition.
Chamomile, Roman (Chamaemelum nobile)
INGREDIENT IN: LeAssurance, LeBaby Me, LeEZ Traveler, LeJulia, LeRefreshMint, LeRevitalize, LeVision, LeWhispering Hope
THERAPEUTIC PROPERTIES: calmative, analgesic, antibiotic, febrifuge, anti-inflammatory, immune stimulant
AFFINITY FOR: reproductive system, nervous system, digestive system, spleen meridian, bladder meridian, yin energy, throat chakra
RESONANCE: physical, emotional
PLANT FAMILY:Compositae
PART UTILIZED: flowers
EXTRACTION METHOD: steam distilled
APPLICATION: Chamomile Roman can be applied to the base of the neck, on the temples, and over the liver. It can be added to shampoo or conditioner to cover gray in lighter hair colors.
AROMATIC CONSIDERATIONS: The aroma of chamomile Roman, in my opinion, is the most relaxing scent in the entire essential oil world. Chamomile Roman is powerfully soothing. The soothing action of this oil applies to both physical and emotional conditions alike. Diffused, this oil creates an atmosphere of peace and patience.
EMOTIONAL / SPIRITUAL / MENTAL ASPECTS: Chamomile Roman smooths the flow of the chi energy throughout the body. It is this regulation of vital energy that makes chamomile Roman so powerfully soothing to both physical and emotional conditions. In fact, so powerfully does this oil unravel the negative emotions behind physical ailments, that it is sometimes hard to tell if it is working at an emotional or a physical level. Chamomile Roman is of great benefit in the treatment of chronic headaches, insomnia, nervous indigestion and nausea, and irritable bowel syndrome—to name just a few.
The smoothing out of the vital energy prevents the build-up of energetic heat, which manifests in the body as inflammation. This chamomile is particularly beneficial for alleviating neuritis, cystitis, rheumatoid arthritis, and earache.
One of the outstanding uses of chamomile Roman essential oil is for babies with colic, babies who startle awake and then cry for a long time, and infants that are just plain fussy and want to be held and comforted most of the day and night.
PHYSICAL ASPECTS: This variety of chamomile, though containing less deep blue azulene, has anti-inflammatory properties. It is of benefit when applied to aching muscles and joints. Because it is so mild and soothing, chamomile Roman is wonderful in the tub or used in a compress. This oil is very soothing for menstrual cramps, nausea, PMS, tension, and nerves.
Chamomile Roman cleanses the blood and reduces allergic reactions. Allergy sufferers can find a great deal of relief by carrying an inhaler or just a few drops of this oil on a tissue or cotton ball. Chamomile Roman is an antihistamine and soothing to inflamed tissues.
GENERAL INFORMATION: The plant from which chamomile Roman is distilled is very tender and delicate. It must be harvested at precisely the right moment in its growth cycle. To accomplish this, growers concerned with quality do a test distillation every few days as the plant matures. They have the distillation analyzed using gas chromatography. This insures the therapeutic quality of the essential oil.
Elemi (Canarium luzonicum)
INGREDIENT IN: LeMillenia, LeNoMore
THERAPEUTIC PROPERTIES: anti-catarrhal, antidepressant, antiseptic, expectorant, calming
AFFINITY FOR: respiratory system, skin and wound care, yang energy, large intestine meridian
RESONANCE: physical, emotional, mental, spiritual
PLANT FAMILY:Burseraceae
PART UTILIZED: resin, wildrafted
EXTRACTION METHOD: steam distilled
AROMATIC CONSIDERATIONS: Elemi has more of a citrus aroma than does frankincense, but elemi has the distinctive spicy/peppery tone of frankincense. Elemi is often diffused during meditation or energy work sessions to aid in visualizations. Elemi should be diffused in times of stress or mental exhaustion.
APPLICATION: Elemi can be applied to the feet or any part of the body. It makes an excellent addition to massage oils and compresses. Elemi is a good oil to add to the bath.
GENERAL INFORMATION: Elemi is known throughout the world as "poor man's frankincense". It has somewhat similar properties and uses as frankincense. See the section on frankincense for additional uses.
EMOTIONAL / SPIRITUAL / MENTAL ASPECTS: Elemi lifts the spirits and provides the energy and desire to seek out better things and more uplifting experiences. The aroma of elemi encourages compassion and a desire for going beyond the ordinary in serving others.
PHYSICAL ASPECTS: Elemi makes a wonderful addition to blends intended for skin care and rejuvenation. Elemi can be used to treat allergic rashes, chapped skin, skin ulcers, and wounds. It is particularly recommended for cuts that have become infected. Elemi has a reputation for being effective in the treatment of gangrene and breast and uterine infections. Elemi has a rebuilding and strengthening effect on respiratory weakness. Elemi may be of use to people who suffer from chronic bronchitis. This essential oil, like frankincense, is recommended for bronchial or sinus infections.
Oregano (Origanum vulgare)
INGREDIENT IN: LeEndoRelief, LeDeliverance, LeLifeForce, LeNoMore, LeSimplicity, LeStefanie
THERAPEUTIC PROPERTIES: anti-infective, antibiotic, antiviral, antiseptic, stimulant, anti-aphrodisiac, emmenagogue, antiparasitic, expectorant, rubefacient, antifungal, immunostimulant
AFFINITY FOR: immune system, digestive system, sacral chakra, respiratory system
RESONANCE: physical
PLANT FAMILY:Labiatae
PART UTILIZED: leaves
EXTRACTION METHOD: steam distilled
AROMATIC CONSIDERATIONS: Oregano is not pleasant diffused by itself. However, the antimicrobial properties can be pleasantly diffused into the air as part of a blended oil formula.
APPLICATION: Be sure to dilute very well before applying to the feet or to the body.
EMOTIONAL / SPIRITUAL / MENTAL ASPECTS: Oregano essential oil promotes a feeling of strength and stability.
PHYSICAL ASPECTS: Oregano, in either herbal or essential oil form, has strong antiseptic and antimicrobial properties. Oregano essential oil balances metabolism, strengthens the vital centers of the body, and is an immune stimulant. In the respiratory tract, oregano is useful for treating chronic bronchitis, respiratory infections, pneumonia, pulmonary tuberculosis, colds, and flu.
GENERAL INFORMATION: Oregano is an extremely beneficial and effective oil which has received some attention from the media lately. Unfortunately, too many reporters and announcers do not know the difference between therapeutic grade essential oils and oils which have been diluted with carrier type oils. DO NOT follow their suggestions and use large quantities at once. 2 or 3 drops of a pure essential oil is always sufficient.
CAUTIONS: Should be avoided or used very cautiously during pregnancy. Can cause extreme skin irritation if applied repeatedly without dilution. Should be used with a little bit of caution when diffused. Probably too strong for use in baths. Be sure to dilute well when applying to the body.
**Remember, this month's specials, and all your favorite essential oils, are available through the Online Store.