A few months ago, I invited my friend Janell over to show me how to make cold-process soap.  Well, my husband and I loved the soap and it was time to make another batch, so I invited Janell back over, this time to watch me make it myself.  I planned to double the recipe but forgot which left me with a lot of oil left over.  I was going to make a second batch of soap, but since one batch made 60 bars of soap, I decided to invite my friend Terree over to teach me how to make lotion.
I wanted to try different oils for the soap this time and we didn't have a lot of "spare change" so I wanted inexpensive oils that had good qualities.  I chose:
Coconut oil – for big fluffy bubbles, cleansing, and a solid bar
Hemp seed oil – according to New Directions, hemp seed oil "is said to be rich in omega 3 and omega 6 essential fatty acids, it has a full amino acid spectrum meaning that it provides complete protein and it has a high mineral content."  Because of the high protein and EFA content, "hemp seed oil closely matches our own skins lipids and the essential fatty acids are readily absorbed into the skin.  Hence hemp seed is said to play a preventative role in skin aging and a healthy moisture balance."
Olive oil
Castor oil – produces fluffy and creamy lather and a soft bar
Sweet Almond oil – New Directions states, "Sweet almond carrier oil is an excellent emollient and is known for its ability to soften and re-condition the skin.  it is rich in proteins, olein glyceride linoleic acid and vitamin D, and is considered extremely nourishing – particularly when used regularly.  It can be expected to sooth dry skin…"
Shea Butter – again quoting New Directions Aromatics, "Shea butter is hailed for its protecting and emollient properties.  Rich in cinnamon acid, it also protects the skin from UV rays…Rich in vitamins and fatty acids, it penetrates deeply into the epidermis and leaves a smooth, satiny finish."
This is the Soap Recipe I used:
12.96 oz distilled water
15.42 oz lye
42 oz. coconut oil
21 oz Shea butter
7 oz Castor oil
14 oz hemp seed oil
21 oz olive oil
7 oz sweet almond oil
24 oz condensed goats milk
pink grapefruit essential oil
Following the directions in Basic Soap Making: All the Skills and Tools You Need to Get Started (How To Basics)
(the Kindle version is FREE on Amazon), I poured the water in a plastic bowl, added the lye and gently stirred.  The temperature quickly rose to over 150* so I took it outside to cool to about 100*.
While the lye & water was cooling, I measured the oils  and Shae butter and mixed them together in a large plastic mixing container.  After the lye cooled to about 100*, I added the lye and water solution to the oils.
Using an immersion blender on the low setting, I mixed thoroughly for about 2 minutes or until it began to thicken.
Then I added the evaporated goat's milk and continued mixing with the immersion blender until it began to trace (look like pudding and leave a "trace" pathway through the liquid.)
I mixed for a while longer until it began to thicken more and then added the essential oil.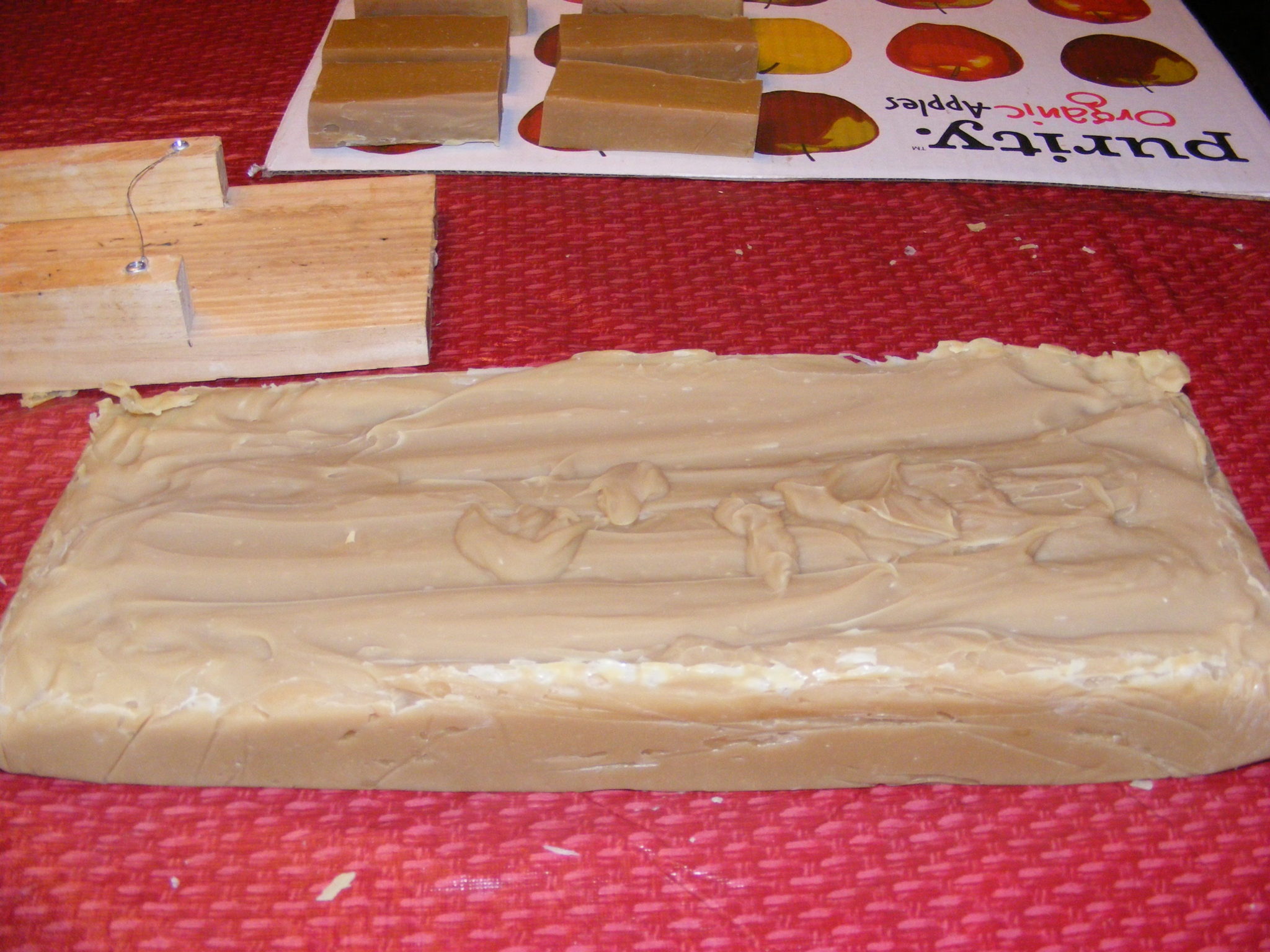 Next I poured the soap into the molds, tapped the soap down by dropping the molds on the floor to remove air bubbles, placed the lids on the soap molds, and  "put the soap to bed" by wrapping the boxes in towels and letting them sit undisturbed for 24 hours.
After 24 hours, I removed the soap from the boxes and cut it into bars.
Then I placed them in a place where they could cure for 4 weeks.
To make the lotion, I doubled the following recipe which Terree got from the Utah State Extension Office.
Hunsaker's Very Simple Lotion
1/4 teaspoon citric acid
1 teaspoon melted cocoa butter (I used Shea butter)
5 teaspoon stearic acid
7 1/2 teaspoon emulsifying wax
1/3 cup oil (I used 1/4 cup hemp seed, 1/4 cup almond and then the rest coconut oil until I reached the 2/3 mark on the measuring cup)
1 2/3 cup distilled water
1 teaspoon liquid glycerin
1/4 to 1/2 teaspoon fragrance or essential oils
Instructions: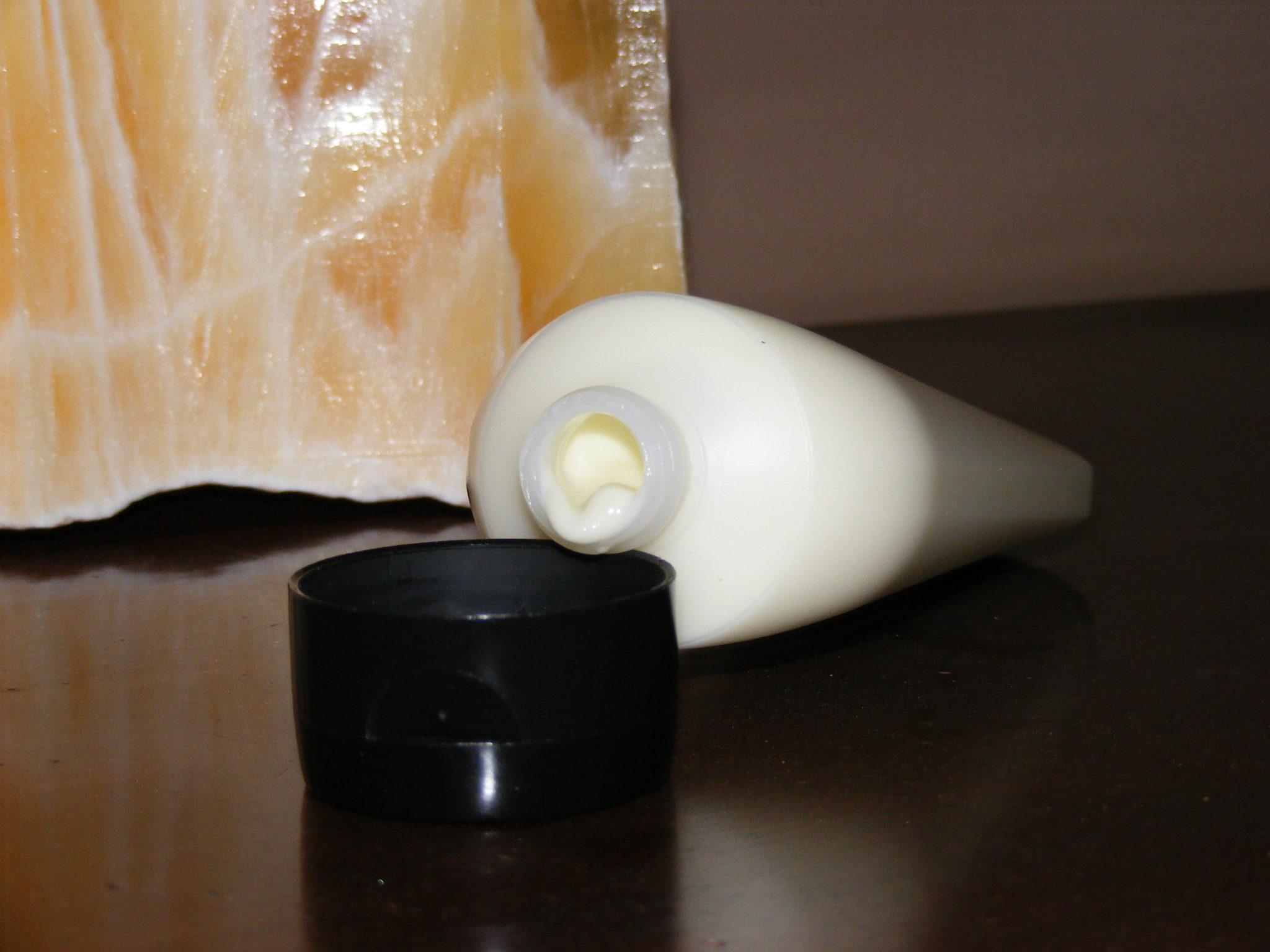 Put all ingredients into a stainless steel pan except liquid glycerin and essential oil.
Heat until all ingredients have been completely melted.  Mixture will look "milky."
Stir with a wooden stick, spoon, or rubber spatula
Next, mix using your immersion blender or small hand beaters.  This process will go relatively fast with this type of blending tool (10 seconds is usually sufficient).  Be careful not to incorporate too much air into your mixture, this is what creates that frothy looking stuff we occasionally see after the lotion has set up.
Add liquid glycerin
Mix again for just a few seconds.
Your lotion is now ready to pour (will look very much like warm milk).
Pour into your bottles, add your essential oils, screw on cap and shake gently as the mixture cools.
This recipe is supposed to be fresh for 3-6 months, so it's suggested that you make a batch as you need it.   There are optional preservatives that you can include, but I chose not to.
There you go!  🙂  "Matching" homemade soap and homemade lotion with none of the chemicals and unpronounceable ingredients.
This post was shared on: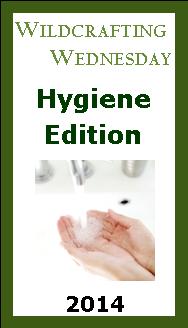 We Did It Wednesday, WOW Me Wednesdays,  Frugal Ways Wednesday, Homemaking Link Up, Simple Lives Thursday, Traditional Tuesdays, Homestead Barn Hop,