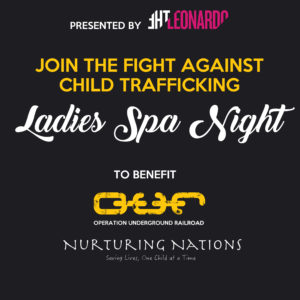 Come enjoy a night full of relaxation at the "spa", where you will be pampered all night long!  Join me at the Ladies Spa Night to benefit Operation Underground Railroad and Nurturing Nations!  I'll be there with students and graduates of We Do Feet Seminars providing free mini-zones and sharing information on Foot Zone Therapy.
Your all-inclusive wristband will give you full access to the following Pampering Services:
Massage
Manicures
Hand Dip Wax
Pedicures
Makeup
Facials
Henna Tattoos
Hair trim or style
Style Consultation
Essential Oils
Waxing
Foot Zoning
Silent Auction Bidding
Professional Photographer Photo Booth
Full access to the Leonardo Museum exhibits
Live Music
Pampering Packages for each guest
Soda & Snack bar (for purchase – provided by The Leonardo)
100% of the proceeds from this event will be donated to, and be divided equally between, Operation Underground Railroad and Nurturing Nations.
Thursday, March 22, 2018
@ 7:00 PM – 10:00 PM
Location: The Leonardo, Salt Lake City
Fee: $40
Space is limited, Register Early
Purchase Your Spa Ticket
Be sure to check out the Events Page to find more information on upcoming Mind Body and Sole events like online webinars, Facebook LIVE Events, open houses, conferences, classes, and workshops!