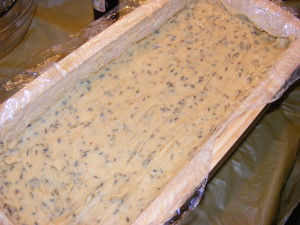 The other day, my friend Janell came over to help me make my first batch of cold process soap.  Janell and her sister, Leah, had made soap twice before, and even though I had a recipe, I felt like I needed the support of a friend with experience.  🙂
Janell let me borrow her book, Basic Soap Making: All the Skills and Tools You Need to Get Started (How To Basics)
before we started and I found it a really good resource to understand the process of soap making, how to create your own recipes, and for some recipes to get started.  Janell and Leah used the following recipe both times and enjoyed the soap but found that the scent wasn't strong enough so added additional essential oil for their second batch.  They also doubled the recipe and had no problems.
Recipe
Note that all ingredients should be measured by weight, except for the goat's milk, which is a liquid measure, and the oatmeal, which is a dry measure.
20 ounces water
15.9 ounces lye
21 ounces coconut oil
21 ounces palm oil
21 ounces lard
7 ounces almond oil
7 ounces castor oil
14 ounces grapeseed oil
21 ounces olive oil
7 ounces sunflower oil
1 12-ounce can evaporated goat's milk
3 ounces lavender essential oil
1/2 cup of finely ground oatmeal
1/2 cup of dried lavender flowers
Although this recipe seemed nice, there were some oils that I found at New Directions Aromatics that I really wanted to try because of their therapeutic properties, so I decided to create my own recipe.  I read through Basic Soap Making until I understood Saponifaction Values (the amount of lye necessary to cause saponifaction of the oil) and superfatting (allowing extra oil in the soap to create a milder, softer soap, typically between 5 and 10 percent).  This book also talked about different characteristics of oils (some create a firm soap, others help make a stable lather or create a conditioning soap, etc.), but it was on the Soap Making Essentials website that I found a formula to make sure I had correct proportions of each type of oil to make a good soap.
So, now that I understood SAP Values, superfatting, and the characteristics of oils, I could come up with my own recipe.  The owner of Soap Making Essentials (I can't find her name anywhere on her site) suggests a basic recipe of 30% oils that "Bring on the Bubbles," 40% oils that "Condition Me, " and 30% oils that contribute to a "Creamy Lather".
"Bubble" oils include:  babassu, coconut, and palm kernel.  There is a long list of "Conditioning" oils, but it includes:  apricot kernel, avocado, olive, macadamia nut, evening primrose, and almond.  Oils that contribute a "creamy lather" include:  palm, lard, cocoa butter, shea butter, mango butter, kokum butter, beef tallow, and sheep tallow.
So the recipe I created included coconut oil and palm kernel (bubbles); olive, macadamia nut, evening primrose, and rosehip (conditioning); palm (creamy lather), and castor.  Castor oil is called "The Anomaly" because it not only conditions but it provides fluffy and creamy lather.  On Soap Making Essentials, she suggests substituting no more than 5% – 10% of the olive oil in a soap recipe for castor because too much castor will produce a very soft bar.
Using the SAP value of the different oils, I was able to calculate the amount of lye, and then I superfatted my recipe at 8% which means I took the amount of lye I needed (based on SAP values) and multiplied by 92%- or 0.92 (100 percent minus 8 percent).  To determine the amount of liquid, I multiplied the amount of lye by 2.5.
Janell and Leah's recipe used evaporated goat's milk which I wanted to use too, so I calculated from their recipe that 1/2 of the liquid used was water and the other half was evaporated goat's milk.  (Jo @ Jo's Health Corner shared a recipe for Homemade Rosemary and Lavender Soap on Wildcrafting Wedneday in which she used an herbal infusion for the liquid.)  I used the same proportion of water and evaporated goat's milk in my recipe, and here's what I came up with:
29.4 ounces coconut oils
29.4 ounces palm kernel oil
29.4 ounces olive oil
14.7 ounces macadamia nut oil
14.7 ounces evening primrose oil
14.7 ounces rosehip oil
9.2 ounces castor oil
58.8 ounces palm oil
26.96 ounces lye
33.7 ounces distilled water
33.7 ounces evaporated goat's milk
Here's what we did:  🙂
Measure the water.  In a separate container we measured the lye.  Then we slowly added the lye into the container with the distilled water.  A chemical reaction starts to occur immediately and the solution becomes hot (and stinky, best to do near an open window).  Stir until the lye dissolves (don't use metal or wood, only plastic or silicon) then set it aside to cool to 100 degrees F.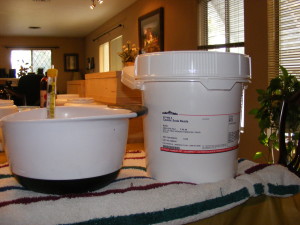 While the lye was cooling we measured out the oils.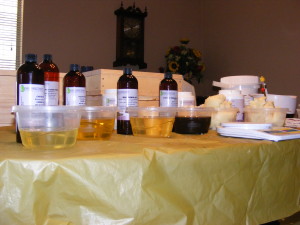 Combine all the oils together in a container large enough to mix the soap in.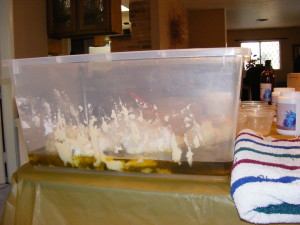 Once the lye was cool, we added the lye and water solution to the oils and began to stir using an immersion blender for about 2 minutes until we reached the trace stage (it looks like pudding and leaves a trail when you lift up the immersion blender).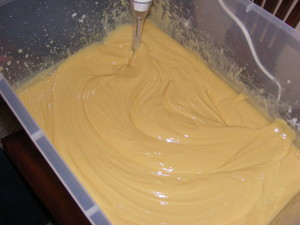 Then we added the evaporated goat's milk and stirred again.
Then we added the essential oils and extras (we divided this batch into three so we could try three different scents – I'll tell you more about this later).  The soap had started to thicken which Janell said didn't happen on the last two batches, but she thought it might be because they had done previous batches when it was 90 + degrees outside.  As a result, Janell mixed with her hands.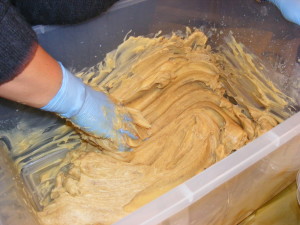 Next we poured the soap mixture into the mold, tapped it on the ground to settle the mixture into the corners, and smoothed the top.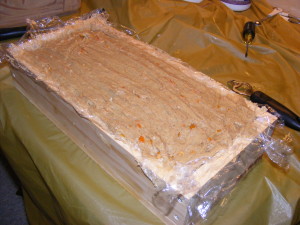 Last we covered the soap and "put it to bed" to cure for 24 hours.
The next day we unmolded the soap and cut it into bars.
Now it needs to cure for 4 weeks before the lye is neutralized.  After that we can use it, and the longer it cures, the better it becomes!  🙂
The scents we used were:
lavender essential oil with ground oatmeal and dried lavender added.
Wake Up essential oil blend (from Butterfly Express) with dried spearmint and grated orange peel added.
and a wassail scent I created for the holidays using Spice C essential oil blend (from Butterfly Express), Cassia essential oil, Orange bitter essential oil, and orange sweet essential oil with ground cinnamon (this gives the soap a beautiful warm reddish-brown color) and grated orange peal.
I'm looking forward to seeing how my soap turns out (2 more weeks to go!), and if everything is good, some of my family members will be getting home-made soap for Christmas!  🙂
Note:  Butterfly Express essential oils are 100% therapeutic grade oils.  You can also use fragrance oils or soap making oils which are a lower quality and less expensive.  However, because Butterfly Express does not market through multi-level marketing, their oils are very affordable.  You can purchase Butterfly Express oils online directly from the company or you can purchase them from me by calling 801-292-7574. 🙂
This post was shared with: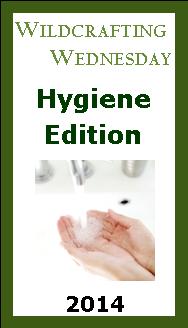 Living Well Blog Hop and Make Your Own Mondays and Simple Lives Thursday and Pennywise Platter.