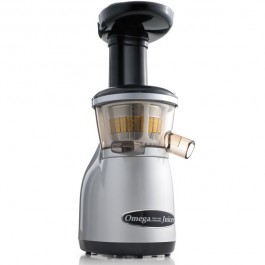 Like many people, I've been concerned because I don't eat as many vegetables and fruits as I should.  Fruits and vegetables are a prime source of vitamins, minerals, living enzymes, antioxidants, and phytochemicals.  Vitamins and minerals have been shown to improve your health and immune system, antioxidants and phytochemicals fight disease, and living enzymes increase metabolism.  The problem is, even though I know that it's important, many days go by without me getting the amount of vegetables and fruits that I need.
I started looking at juicing as a way to help me to include more fruits and vegetables in my diet, and because heat destroys the enzymes, vitamins, and minerals, the juice may be better for me than eating cooked vegetables or fruit.  Many articles that I've ready also state that juicing helps in the detoxification of my body, helps in cleansing the digestive system, and because the the process of digestion is bypassed, the body can quickly absorb larger amounts of nutrients from juice.
For all of these reasons, I've been looking at juicers for quite some time trying to find the best juicer for my money.
In my search for a juicer, I found the Omega Vert Juicer.  It is a slow juicing, masticating juicer that juices, fruits, vegetables, and…..wheat grass!  That really impressed me!
Most juicers that do a good job at juicing fruits, have a difficult time with leafy vegetables, and juicing wheat grass has always required a separate juicer…until now.  Because of it's design, the Omega is able to handle all fruits, vegetables, and wheat grass with ease.
The Omega Vert Juicer was designed for the heavy use of a juice bar but is quiet enough and compact enough to fit in most kitchens.  It's durable and comes with a 10 year warranty on parts and the motor.
The description is below, but right now, the Omega Vert juicer is included in the group buy for this quarter.  Normally priced at $430, we can purchase the Omega Vert juicer for $325 when we place a minimum order of 4 juicers.  The order is due November 10 which makes the timing perfect for Christmas gifts.  🙂  The videos below talk about the health benefits of juicing and show the various styles of Omega juicers.  The second video demonstrates the Omega Vert Juicer, the one included in the Group Buy for this quarter.
If you're interested in ordering the Omega Vert juicer, simple fill out the Group Buy Order Form, and return it to me by November 10.  If you have questions, please feel free to call me at (801) 292-7574.
httpv://www.youtube.com/watch?v=7AruI88lhe4
httpv://www.youtube.com/watch?v=kAYqQ1kOIhI&feature=related
Description:  The Omega Vert juicer is a revolutionary product that features the high efficiency of a masticating juicer in a vertical design.  The Vert is designed to be compact, contemporary and productive.  Most juicers process at a speed of 1,650 to 16,000 RPM, destroying many healthy enzymes and causing juice to degrade shortly after being extracted.  The Vert Low Speed Juicing System processes at 80 RPM, preventing oxidation and allowing juice to be stored for up to 72 hours without degradation.  With the Vert Juicer, form and function combine to give you the highest degree of extraction and the healthiest possible juice.  The Vert Juicer also features an innovative auto cleaning system that keeps the screen clear during juicing and increases its efficiency.  The contemporary design is complemented by a virtually indestructible ULTEM juicing screen that will withstand heavy duty juicing.
Features:
Juicer Type – Masticating Juicer
Finish – pearl (white) or satin (stainless steel)
Speed – 80 RPM Operation for Optimal Efficiency
Motor – 2 HP Commercial Condenser Motor
Weight – 22 lbs.
Dimensions – 7″ W x 8 1/2″ D x 15 1/2″ H
Wattage – 150 Watts
Fine and Course Juicing Screen for Pulp Control
Capable of Juicing Wheat grass at High Yield
Auto Cleaning System
Usage – Exclusive Underwriters Laboratories Inc. (UL) Household and Commercial Approval
Warranty – 10 Years
Cost: $325
Retail is $430 and Amazon is selling it for $332.27, so this is a great deal!  Plus you have until November 10 to save up for it.  🙂
If you want to actually SEE the unit, you can go to Gregory's Wheat Shop in Bountiful.  They have the Hurom slow juicer, which is basically the exact same juicer but with only a 2 year warranty on parts.  The Omega really is the best juicer I've been able to find.