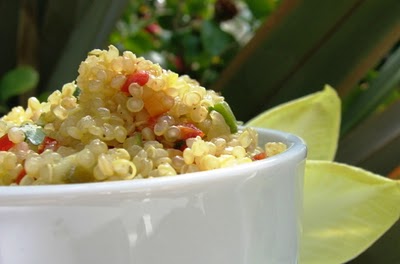 Although technically a seed, quinoa can be used like other whole grains such as rice or barley. Quinoa is an ancient crop that is native to the Andes, but is also grown in South American and the Colorado rocky Mountains. The Incas called quinoa "the Mother Grain."
Like amaranth and buckwheat, quinoa supplies all nine essential amino acids making it a complete protein and perfect for hot summer days when eating meat protein should be avoided. And because it takes only 15 minutes to cook, it's a great choice when you want to keep the house cool.
Quinoa is coated with a compound called saponin, which will give it a bitter taste unless you rinse it well before cooking.  And because quinoa has high oil content, it should be stored in the refrigerator or freezer to avoid becoming rancid.
Quinoa Salad
Ingredients:
1 c quinoa
1 1/2 cups vegetable broth or water
1/4 tsp salt
1 Tbl olive oil
1 c snow peas, shell peas, celery, or green beans
1 -2 small carrots, peeled and sliced thin
1/2 green or red pepper, sliced thin
1 medium ripe tomato
1 medium cucumber, peeled and diced
1/4 c chopped fresh parsley, cilantro, or basil
1/2 c chopped walnuts, toasted sunflower seeds, or toasted cashews
options: chopped scallions, dried unsweetened cranberries, raisins, or apricots, Greek olives, grapes, minced jalapeno pepper, fresh mint
Dressing:
2 Tbsp freshly squeezed lemon, lime, or grapefruit juice
1/4 c olive oil
1/4 tsp salt
fresh ground pepper
Options: pinch of cayenne, fresh minced garlic, fresh minced ginger
1. The quinoa can be made ahead of time and refrigerated if you like.
2. Soak the quinoa 15 minutes in cold water.
3. Rinse thoroughly, pour off most of the water and drain through a large fine mesh strainer.
4. Place in 2 qt pot with the vegetable broth, salt and oil.
5. Bring to a full boil.
6. Cover the pot, let boil another minute, then turn the heat down to very low, and cook for 15 minutes. (A tight fitting lid is essential for even quinoa cooking.)
7. Remove from heat and allow to sit five minutes with the lid on.
8. Fluff gently with a fork, cover, and set aside to cool.
9. Steam the carrots and celery for 5 minutes or until tender-crisp, rain, rinse in cold water and drain again.
10. Chop the tomatoes, herbs and cucumber.
11. Blend dressing ingredients with a whisk or shake in a jar.
12. Gently combine quinoa, veggies, nuts, and any other herbs that you choose along with the dressing in a large bowl.
13. Cover and chill.
This post is linked to Kelly the Kitchen Kop's Real Food Wednesday blog carnival.