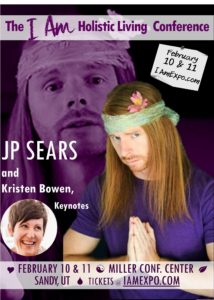 The 8th Annual Holistic Living Conference will be held on Friday and Saturday, February 10 & 11 at the Miller Conference Center on the SLCC campus, 9750 South 300 West; Sandy, UT and I have the privilege of speaking about Foot Zone Therapy!
As you probably know, Foot Zone Therapy is one of the modalities that I practice and it's also one that I teach for We Do Feet Seminars.  So being able to talk about something that I'm so passionate about and that brings me so much joy has me REALLY excited!
I'll be in Room 1, Saturday, February 11 at 4:30, and I would LOVE to see you there!
The hilarious JP Sears and Kristen Bowen of Living the Good Life Naturally are this year's conference keynote speakers, and they have multiple sessions running throughout the conference.  The speaker lineup this year is AWESOME!  There's also a FREE, open to the public Expo area, AND if you stop by the Mind Body and Sole booth you'll have a chance to win one of 5 Great Prizes!
Emotion Code® Phone Session (valued at $30)
Jin Shin Jyutsu Session (valued at $40)
Foot Zone Session (valued at $60)
Nutritional Therapy Session (valued at $100)
$1,000 Scholarship for Spring 2017 Semester of Foot Zone Certification Class (Priceless!)
I'll also have amazing students from We Do Feet Seminars offering FREE Foot Zone Sessions at my booth, so if you'd like to experience the balance that comes from Foot Zone Therapy, be sure to sign up here and I'll give you a call to confirm your FREE session!
The vendor area is FREE and open to the public but if you want to attend classes you'll need a ticket.
Offer #1:  Early Bird Pricing with my Custom Coupon Code
Even though the deadline for early bird pricing has passed, you can still get early bird pricing through me!  Just use my last name, ATKINSON, when prompted to enter a promo code at checkout and receive the $75 early bird ticket price instead of paying $99!
Offer #2:  Bring a Friend Fridays
Every Friday you can get 'Buy One, Get One Half Off' pricing for tickets on the Holistic Living Events website!
Offer #3:  FREE Ticket for Mind Body and Sole Subscribers
I've reserved 5 free tickets exclusively for Mind Body and Sole subscribers.  To claim one of the free tickets, all you need to do is post the following on your Facebook page:
I'm going to the "SLC 'I Am' Holistic Living Events & Expo 2017" to see Katherine Atkinson from Mind Body and Sole!  You should come with me                                            and                                              !
That's it!
The first 5 readers to post and tag will each win one FREE ticket!
(If you're not sure how to 'tag' on Facebook, don't worry!  Tagging instructions will be in the comments below.)
I hope you'll be able to join me at this AMAZING event, it would be so good to see you there!