The look on my husbands face was comical!  You'd have thought I asked him to "pull my finger!"
You see, we had just spent the day in the sun moving a large pile of rocks (the size of basketballs and larger).  It was in the 90's and we were HOT and sweaty!  When I came inside I had to peal my clothes off in order to clean up and it occurred to me that this was the perfect opportunity to test the effectiveness of my DIY deodorant.  I'd been making it for over a year and hadn't had any problems – at least my husband hadn't complained – but then I don't usually get really sweaty and I rarely sweat to the point of having to peal off my clothes because they're sticking to me.  So this really was the perfect opportunity.
Cautiously I placed my nose in the vicinity of my armpit and sniffed.  I noticed a slight coconut scent.  I pulled in further for a good whiff.  Coconut and a slight scent of essential oil!  That was it!  Wooo Hooo!  Success!
Of course, I had to share my success with my husband!  So I went in the other room and invited him to revel in the scent of coconut with me.  Naturally, he was skeptical.  But after I did a test sniff to prove it was safe, he cautiously approached and smelled too.
His response?  His eyes opened in surprise and he exclaimed, "Hey!  It smells like coconut!"
Yep!  Definitely a success!
DIY Deodorant Recipe
1/4 cup Redmond clay
1/4 cup Baking Soda
1/4 cup Arrowroot
Coconut Oil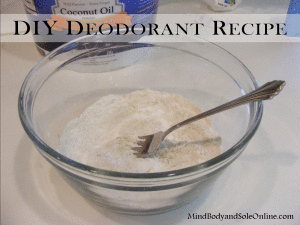 Mix together the clay, baking soda, and arrowroot.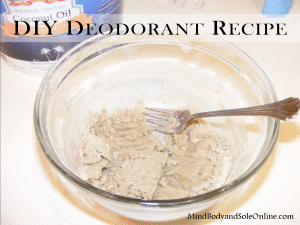 Add enough coconut oil to bring the mixture to the consistency of dry play dough (I start with a little less than 1/4 c and add more if I need to).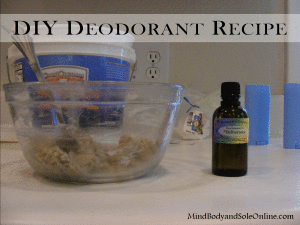 Once it's at the right consistency, add 2-3 drops of essential oil – whichever one you like.  This will bring it to the right consistency for deodorant.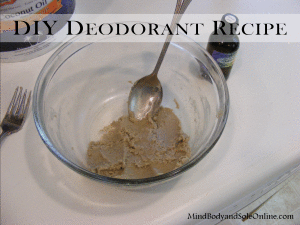 Then spoon the mixture into old deodorant containers.  This makes enough to almost fill two containers.
I keep one in the refrigerator and the other on my dresser.  It doesn't melt on my dresser as long as we have the central air on – remember coconut oil becomes liquid at about 76 degrees.  You want it soft enough to spread but not so soft it pours out.  🙂