Can you believe that in a few short days the 2015 Fall Semester of Foot Zone Certification Classes will begin?!
Foot Zone Therapy has been around for thousands of years but has only been taught in the United States since 1989.  We Do Feet is the largest Foot Zone School of Instruction in the U.S. and has developed the most comprehensive curriculum of any training program.  Our program is designed to make you the best Practitioner you can be.
Most training programs require advanced training to complete your education.  But not We Do Feet!  When you finish your classes, you will feel confident and competent in the Foot Zone Technique.
But that's not all!
Our Commitment to Our Students Doesn't End with Graduation!
As a We Do Feet Graduate, you receive:
Life-Time Continuing Education

Audit my Foot Zone classes for FREE
Audit We Do Feet Owner, Brad Noall's Foot Zone classes for FREE (this is like getting two 9-month training programs for the price of one!)
Audit any other We Do Feet instructor's Foot Zone class for a small Audit Fee

Discounts on other We Do Feet Courses
Exclusive membership in an Online Forum reserved for We Do Feet Students and Graduates
FREE Zone Treatment Update Training during our Annual Class Reunion
FREE website designed especially for the Foot Zone Practitioner
If you have an interest in learning this fascinating form of holistic health care, register below so you can get started on this exciting journey of self-discovery and self-improvement!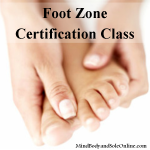 Foot Zone Class - Deposit
Reserve your space in the 2021 Fall class by paying a $200 Deposit. The deposit is non-refundable but may be transferred or applied to a future class. When your deposit is received you will receive information on class books and materials and gain access to the Class 1 Online Learning Module. 2021 Fall Semester begins September 24-25. EARLY BIRD DISCOUNT - Register for class before June 30th and receive $200 off your Books & Materials fee.
Items in Your Cart
Your cart is empty
For Additional Information
Please feel free to contact me directly, either by phone or by email.
Katherine Atkinson
(801) 292-7574