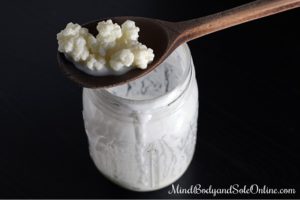 You've probably heard me talk about milk kefir as part of The Perfect Trifecta for Intestinal Health.  Well, here's your chance to learn how to make it yourself and even taste a smoothie and cream cheese made with milk kefir!
Join me in this fun class as I demonstrate how to culture milk kefir and use it for smoothies and kefir cream cheese.  I'll even show you how to harvest whey to use in making other cultured foods like pickles and sauerkraut!
The class is FREE for existing Mind Body and Sole clients and current members of the Weston A. Price Foundation.  Kefir culture will be available for $5 at the class (just bring a pint jar with 1/2 cup of milk).
If you're not a client of Mind Body and Sole or a member of the WAPF, you're invited too!  The class fee is $25 and includes kefir culture.
Space is limited and registration is required.  You can register online here:  https://mindbodyandsoleonline.com/events/milk-kefir-class/
Date:                     Wednesday, May 24
Time:                     6:30 PM – 7:30 PM
Location:              1035 North 500 East, Centerville
Downstairs Learning Area
This class includes smoothie and cream cheese samples.
I hope to see you at the class!