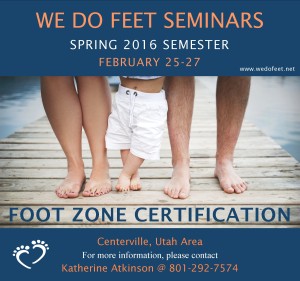 Are you intrigued with the Foot Zone Technique, it's benefits, or its history?  Do you have a desire to help family and friends?  Are you interested in beginning a new career or becoming self-employed?  Are you ready for a new direction in your life?  Have you considered enrolling in Foot Zone Certification classes?
If the answer to any of these questions is "YES!" or even if the answer is "yes?" then give me a call and lets talk about the Spring 2016 Semester.
As an instructor for We Do Feet, I'm proud to teach a curriculum that is extremely thorough and complete and will help you become a qualified Foot Zone Practitioner.  Our courses are State Approved and recognized by the Utah Foot Zone Association as meeting the requirements to practice the trade of Foot Zone Therapy in the State of Utah.
When you take our courses we will do all we can to help you be the Foot Zone Practitioner you want to become.
Registration opens today, and classes start February 25th, so don't delay!  Call me for more information or to register for classes, 801-292-7574.  You'll be glad you did!  🙂