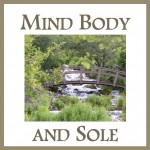 There have been a lot of things going on at our home over the past few months.  I think most of you know that my son passed away in May and I want to thank you for your kindnesses toward me and my family during this time.  It has been difficult, but we are slowly adjusting to our new normal.
Services
You may also know that I have been receiving training in Jin Shin Jyutsu® and became certified as a Jin Shin Jyutsu® practitioner and self-help instructor in March.  I also received training from Dr. Bradley Nelson in The Body Code® last June.  It's been exciting to add these modalities to my "tool belt" in addition to the other modalities I've been trained in.
Of course I'm still foot zoning and teaching Foot Zone Certification classes for We Do Feet.  In fact, it's been fun to incorporate techniques from these modalities into my foot zone sessions and watch the results.
With all the new modalities and services being offered in my practice, I feel that it's time to make some pricing adjustments.
Pricing
September 1st, the following prices will be in effect:
50 minute Jin Shin Jyutsu® Sessions – $40
50 minute Energy Sessions – $40 (this session incorporates all the energy modalities I've been trained in)
75 minute Foot Zone Sessions – $50
Youth Foot Zone Session (for children 12 and under) – $40
*Package of 5 Foot Zone Sessions – $200 (this allows you to schedule sessions for the entire family – youth and adult – without having to worry about the cost).
Current pricing for foot zone sessions ($40) will remain in effect throughout the end of August, however, *Foot Zone Package pricing will increase August 9th.  This gives you an opportunity to purchase a Package of 5 Foot Zone Sessions are the current price of $175 for the next couple of weeks before Package pricing increases.
I have a few openings still this month, so if you would like to schedule a foot zone session before prices increase in September or if you would like to schedule a Jin Shin Jyutsu® or Energy Session, please call me at 801-292-7574.