As an instructor for We Do Feet Seminars, I'm excited to announce open enrollment for the Spring 2017 Semester!  Take a look at our curriculum or talk with one of our students and you'll soon discover that We Do Feet is different than other Foot Zone Training Programs.  While other programs require additional training and courses to learn advanced techniques, we only give our best to our students!    At We Do Feet, we ALWAYS teach our students the most advanced treatment available so you can give your best to family and clients.  Take a moment to Discover the 'We Do Feet' Difference.  You'll be glad you did!
Community
There's something special about the We Do Feet Community!  Students, instructors, and owners all passionate about health and happiness and doing all we can to help you succeed!  You'll look forward to each and every class – both for the new information and tools that you'll learn and for the opportunity to reconnect with the other students who have become friends!
Instructors
We Do Feet Instructors have completed extensive teacher training and have several years of Foot Zoning experience.  Each instructor teaches the same curriculum, but brings their own unique perspective, personality, and area of expertise to their class, and We Do Feet Instructors are ALWAYS learning!  I am very proud and honored to work with such a wonderful group of instructors.  Their individual knowledge, abilities, and experiences add to the overall effectiveness of our program.
Curriculum
We Do Feet offers the most comprehensive Foot Zone Certification Course curriculum in the country.  In each class, our instructors go in-depth into the Foot Zone Technique and Anatomy & Physiology as well as other aspects of Foot Zone Therapy designed to assist you in becoming proficient as a Foot Zone Practitioner.  With over 150 hours of in-class study, when you finish your training you will feel competent and confident in your skills as a Foot Zone Practitioner and your ability to help those around you.
Commitment
Our Commitment to our Students doesn't end with graduation!  We Do Feet offers more opportunities for Continuing Education than any other training program in the country!  Between online forums, in-class opportunities, instructor publications, conferences and reunions you'll always be up-to-date in the latest treatments.
Convenience
Our certification Course consists of more than 150 hours of in-class instruction taught over nine seminars.  We meet once a month for 9 months with final testing and graduation during Class 9.  Classes are taught on Friday and Saturday from 9 AM – 6 PM to accommodate work schedules and childcare.
Register Online
Enroll in my Centerville, Utah class today and you'll gain immediate access to our Class 1 material so you'll be ahead of the curve when our class meets in February!  Enroll by January 31 and receive $150 off Books & Materials!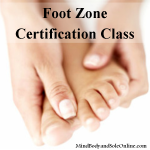 Foot Zone Class - Deposit
Reserve your space in the 2021 Fall class by paying a $200 Deposit. The deposit is non-refundable but may be transferred or applied to a future class. When your deposit is received you will receive information on class books and materials and gain access to the Class 1 Online Learning Module. 2021 Fall Semester begins September 24-25. EARLY BIRD DISCOUNT - Register for class before June 30th and receive $200 off your Books & Materials fee.
Items in Your Cart
Your cart is empty